Joey Deriquito
Content Writer
Nothing excites Joey more than a tank full of gas and an open road. He yearns for knowledge, always studying and researching about cars. Many of his friends would say that his car is an extension of himself, always able to observe when even a single bolt is out of place.
@AutoDealPH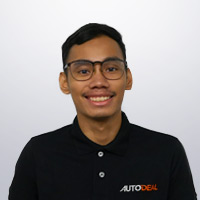 The refreshed Suzuki Ciaz is now in the Philippines and comes with revised styling as well as a new 8-inch infotainment system.

It's always a good idea to make sure that your wiper blades are in top condition especially during the rainy season.

The automaker's iconic van has officially made its way onto Philippine soil and will soon make its official debut.

Each type comes with its own pros and cons and tackles specific things when it comes to protecting and repairing your vehicle.

The all-new Kia Sportage now packs more power as its engine options and other features have been revealed.

The Mazda3 sedan presents itself as a unique entry into the Philippines with its award-winning design and other features that make it a cut above the rest.

Here are a couple of reasons why you should get a pickup truck as a daily vehicle and why you shouldn't.

The launch of the Hyundai Staria set to happen soon in the Land of Smiles, bringing it one step closer to being officially sold in the Philippine market.

With the new Aseana and Angeles dealerships, Geely Philippines now has a total of 13 operational facilities nationwide.

With modern engines, the ECU will do all the work in keeping it at the right temperature to let it cool down properly.

These special models come with new gunmetal accents for the Mirage G4 model and custom black accents for the Mitsubishi Mirage.

Apart from its affordable price tag, here are other things to like about the MG ZS that make it an ideal first vehicle.

Find out who wins as we compare the Kia Soluto with its rival the Mitsubishi Mirage G4 spec for spec in this head-to-head.

It is hoped that under the leadership of Zoom Hub Inc. the new dealership will be able to further expand the brand's presence in the area and into other nearby cities.

The Hyundai Kona is a veteran of the subcompact crossover segment that can still duke it out with the newer entries in the market.

Wondering if you should finance your next vehicle or pay for it with cash? Worry not as we have a quick guide that will help you weigh out the pros and cons.

Despite the ongoing pandemic, Suzuki Philippines is still pushing forward with its plans of expansion as it opens its newest 3S dealership in Bacolod City.

The new memo helps to set new rules about how public utility vehicles should act around active transport users.

The Maxus G50 brings with it great space, a powerful turbocharged gasoline engine, and features that make it easier to drive.

Interested buyers can avail of up to a P175,000 discount on any Nissan vehicle through the brand's financing division powered by EastWest Bank.

Find out who wins as we compared the Suzuki Dzire and the Mitsubishi Mirage G4, two equally equipped sedans that come with frugal gasoline engines.

It's a popular belief that came about with much older carburetor-reliant vehicles that are no longer needed with more modern cars.

Honda has given the hatchback a unique rear design and has even given it the option of being had with a 6-speed manual transmission.

The MMDA expects that traffic flow will be better in the area as more space has also been created to allow more vehicles to pass.

The Volkswagen T-Cross brings with it a youthful design and a handful of standout features that owners will enjoy and interested customers will be curious about.

Oil is the lifeblood of a motor, but what happens when the wrong kind of oil is used on your car's engine? Here is a quick guide to help you understand what could happen.

After breaking ground the new airport will immediately start construction and will come with an assortment of interconnected roadways.

After a nearly 40 year run in the Philippines, the nameplate makes its official goodbye as the Pajero has been dropped from Mitsubishi's local lineup.

Here are a couple of important questions you need to ask your service center or mechanic about your car.

The increase in public transport capacity is still under review but will still follow the proper health and safety protocols even with an increase in passengers.

Make sure to keep your vehicle in top condition as these warning signs could prove to be costly repairs later on and could leave your vehicle unable to move under its own power.

The GT version of the Kia Forte sedan will reportedly launch soon to complete the set for the South Korean automaker.

Here is a quick guide as to when you should change your timing chain and the signs it gives off when it's about to go.

From putting too much weight on your transmission to more severe damage, here is a quick guide to help you understand why it can sometimes be hard to shift out of Park.

With the Nissan LEAF now available at the brand's Davao and Tagum dealerships, it brings it one step closer to having a total of 7 facilities that can sell and maintain the EV within 2021.

To celebrate the opening of the new facility, Ford Talisay is giving away special Ford merchandise to the first 50 customers of the dealership.

With the hatchback set to make its global debut soon, its new design could indicate what Honda has in store for the Type-R version of the Civic.

Here is a quick guide of the many types of spark plugs you may encounter and how to tell which one is in your vehicle.

The Land Transportation Management System will further aid in the LTO's 5-year plan of upgrading its information technology systems.

Looking to add a vehicle to your city lifestyle? Heed this lists of reasons why you should consider a small car for city driving compared to the other bigger options on the market.

The next-generation crossover has been unveiled with sharp new looks and a modern interior that features a large digital instrument cluster as well as a large curved infotainment system.

A quick guide to understanding tire compounds and what they can offer you in terms of performance and durability.

The Suzuki Jimny may be small, but it has what it takes to be a great off-road vehicle that can go toe-to-toe with its bigger contemporaries.

It looks like the Mach-E is worthy of its iconic "Mustang" name as Ford has produced more units of the EV compared to its gasoline counterpart.

Progress on Phase 1 of the Central Luzon Link Expressway is about to be completed in time for its planned partial opening to motorists in July.

This rubber belt holds the key to making sure your engine runs smoothly so that none of its internal components hit one another causing a costly repair.

The next-generation SUV will finally make its global debut along with its official specifications and photos.

We put the Celerio and the Brio in a head-to-head comparison. Small yet capable, either look like a great choice, but which do you go for?

These common lubricants not only help prevent wear and tear but also create a thin film of protection for your car's moving parts.

The Maxus MIFA concept is a showcase of what the automaker can do with its electric motor and autonomous driving technology.